A Place Where You Can Express Yourself!
At AOV we believe that art is all around us. With the right vision youth can turn opportunity into creative expression. The world is their canvas.
---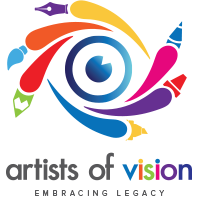 For youth searching for opportunities for creative expression Embracing Legacy's Artist of Vision Program provides youth with a platform for expressing themselves through a variety of art mediums and in the process, teaching them to see how these skills can be used in everyday life.
About Us:
Artists of Vision (AOV) is designed to help youth ages 3 – 17 gain self-confidence while skillfully expressing themselves through visual arts. Youth find their niche through exposure to art disciplines (photography, film & video, performing arts, etc.) and training in various techniques and concepts in design, drawing, sketching and painting.  AOV seeks to develop youth into leaders, encourage them to cultivate their gifts, and gain experience in expressing themselves confidently through presentation and public speaking skills.